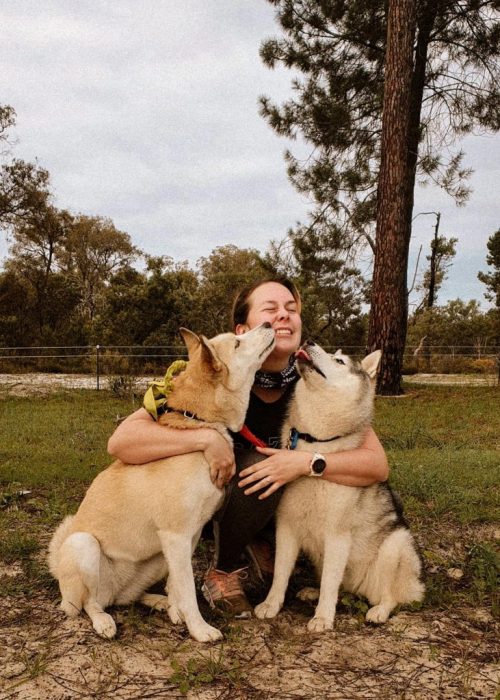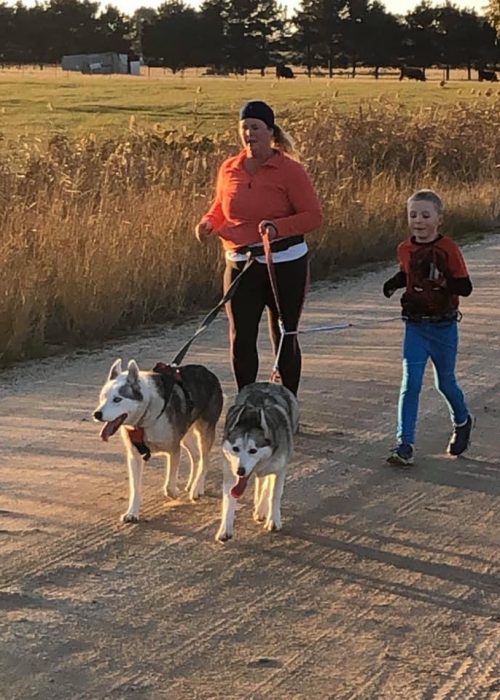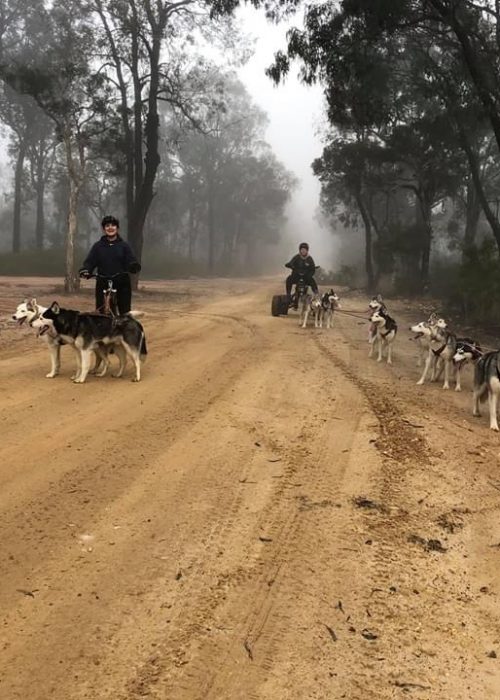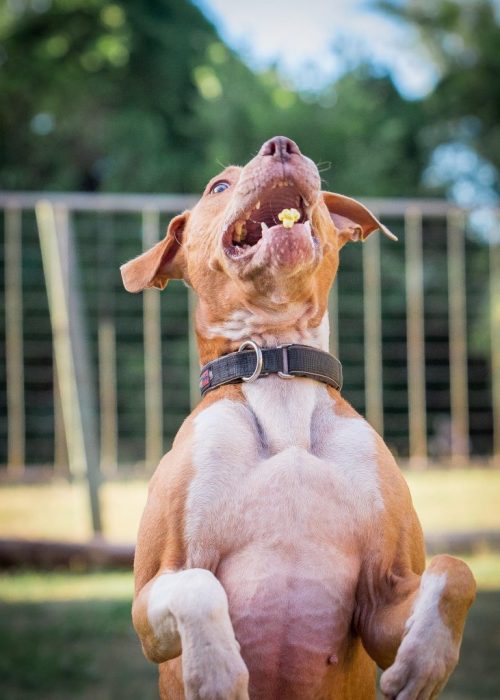 The minimum requirements to complete a stage are to record at least one km with your furry friend and submit your scores on time. You can even take a week off; your lowest week's score will be dropped. We do recognize the overachievers in each class, but the biggest award we offer is a finishers medal. The real reward is the time spent and memories made with your dogs!
3 teams make a pointed class. Any class that has less than 3 teams registered may be combined with the class of closest size and type. The number of dogs listed in each class is the maximum number you may run. You can always run fewer dogs than this number – for example, if you run a 3 Dog Dryland Team, you would enter the 4 Dog Dryland class. Please note that 6 Dog Sled and Unlimited Sled classes can be run on a sled or on a cart or combination (see mileage points).
Competitive Canicross – Mostly runs 

Recreational Canicross – mostly walks
1-Dog
1-dog bikejor
2-Dog
2-dog bikejor
All finishers will receive a medal. You must complete 7 stages to be a finisher.

The top 3 finishers in each class will be recognized.

Participants showing the Best Sportsmanship will be recognized.

The winning state will receive special recognition.

The lowest scoring finisher will be recognized as the Red Lantern Winner.

All dogs ages 8-9 will be recognized as Trail Masters

All dogs 10 and over will be recognized as Trail Legends

All mushers over the age of 60 will be recognized as Master Mushers

All mushers under the age of 18 will be recognized as Junior Mushers

Finishers Medals will be mailed, and all certificates will be emailed in digital format.
a team consists of one musher plus dogs

Iron Paws is a mushing competition. As such, all dogs will run on a gangline attached to a properly fitted pulling harness.

The Siberian Husky Club of Victoria manages points only.

Run your teams at your own risk. Mush responsibly with the best interest of your dogs in mind. Consult your veterinarian before harnessing any dog under 18 months of age. Helmets are recommended for all wheeled classes. Play fairly and respectfully.

Iron Paw Factory relies on the honor system. Play fair. Be honest

Teams can mix and match dogs. You can run any combination of dogs you like up to the maximum number allowable for your class. *updated for clarity: you can drop dogs mid run, but you may not add fresh dogs once you have started recording mileage.

Only one (1) run per team, per day, can be counted for points. Maximum four (4) runs per team, per week may be counted towards points.

Individual dogs may participate on more than one team, but each dog can only score in one (1) run per day and four (4) runs per week.

Each team's lowest weekly score will be dropped upon the conclusion of the event.

Teams are allowed one bye week with a zero score.

Teams must run and report a minimum of one run of at least one km each week for the stage to be considered completed.

Each stage will run Monday through Sunday.

Scores must be submitted by 11:59 AEST Wednesday evenings. If you have technical difficulties submitting your score, notify the Race Organizer before that time.

Late scores will not be accepted.

Any and all complaints about fellow competitors must be reported to your Race Marshal in a timely manner for consideration. When planning your strategy and before submitting a complaint, please consider that the biggest tangible prize we offer is a finisher's medal .
Please remember, only 4 runs per stage count for points.
4, 6 and Unlimited Classes: 1 point per km for sled or cart, 1/2 point per km for skijor, canicross, bikejor, or scooter.

1 and 2 Dog Class: 1 point per km for scooter or cart or sled, 1/2 point per km for skijor, canicross , bikejor.

1-2 Dog Bikejor 1 point per km for dryland bike, 1.5 points for fatbike snow or sand, 1/2 point per mile for scooter, cart, canicross, skijor, or sled.

Canicross Class 1 point per km for canicross, 1/2 point per km for skijor. Wheeled miles do not count in this class.
Who doesn't love photos of their dogs? We love photos of YOUR dogs. Sharing is half the fun.
Photos and videos must be posted to the Iron Paws Facebook page during the active stage.

1 point for one photo/video, 2 points for two, and 5 points earned if you share a minimum of 3 photos or videos.
Any participant can plan and host a social. At least 5 IP participants must attend to score points. Maximum IP participants will be based on government guidelines for each state. Make sure to snap a photo of your group to share, adhering to social distancing rules of course!
5 points are earned per social for each musher.

Only one social per stage may be claimed.

Socials must be announced on the Iron Paws page a minimum of one week prior to the scheduled date and open to everyone to count for points.
Post Howladays to the IP Facebook page, one post per team. 5 points each stage. Share your Howladays posts Monday – Thursday. Weekends are for running dogs! You can interpret the howladay as suits your team as long as you stick to the theme. The organizers reserve the right to change any stage's Howladays on a whim.
Stage 1: Home court advantage! Run your favourite local trail and share a representative photo or video so we can see what your trails look like…and make sure to tell us where you're located!

Stage 2: Christmas in July. For this themed howladay, get in the festive spirit and show us how you celebrate Saint Nick, or is it Kris Kringle?

Stage 3: Pawlympics. Opening ceremony is July 23rd, so let's celebrate the finest athletes around.

Stage 4: True origins. Tell us how it all began. Was there a special canine or human to…. ummm….blame? for this special addiction.

Stage 5: Trick challenge. Teach your pup a new trick and share a video to show off your efforts. If you are too serious for tricks, teach your dog a new trail skill.

Stage 6: Lazy Days. After a mind crushing trick challenge week, show us how you kick back and relax after a work out.

Stage 7: Yappy Hour. A dog walks into a bar… It's not a joke, he's just the guest of honor at a swanky Yappy Hour.

Stage 8: National Dog Day. August 26th is National Dog Day, so show your pooch some much deserved appreciation for a season well run!
Run with a Friend and Races (pending government Covid-19 restrictions) –
Each participant may choose one of the following items each week to earn an additional 10 points per stage. Run with a friend points must be earned outside of a social.
Go for the glory – If you love to compete, tow the line at a local sled dog race.

Be friendly – Run with a friend, any friend will do as long as they also running a dog in harness.
Race Volunteer (pending government Covid-19 restrictions) –
Iron Paws appreciates and encourages the volunteers that keep our sport going. If you are an official volunteer at a club sanctioned race, you can earn additional points.
Earn 5 points per day for volunteering up to 10 points per stage

You must be an official volunteer assigned a duty by the race manager. Volunteer positions that qualify include Race Manager, Race Marshal, Chute Boss, Trail Boss, Timer, Spotter, Awards Maker, Sponsor, Recruiter, and Race Promoter.
ODR – Old Dogs Rule Class:
ODR is for any and all old dogs or Handicap Dogs – Basically any dog that can't run with the team and would otherwise be left out of the fun is eligible. ODR teams must run at least one km and post one photo per week as well as complete 7 out of 8 weeks to be a finisher. Any musher participating in a regular class may also participate in this special class for no additional charge. This class is tracked separately and no finishers medals are awarded. In this class ONLY, dogs may participate with a leash attached at the collar.
A Final Note on Sportsmanship:
sports·man·ship /ˈspôrtsmənˌSHip/ noun: sportsmanship : fair and generous behavior or treatment of others, especially in a sports contest. : conduct becoming to one participating in a sport such as fairness, respect for one's opponent, and graciousness in winning or losing
Iron Paws relies on the honor system. Play fair. Be honest.

The biggest tangilble award we offer is the finisher's medal. Compete accordingly.

The organizers can and will eject any participant not conducting him or herself in a manner not meeting the above definition of sportsmanship.

The organizers are responsible for managing points only. Due to the remote nature of the participants, we are unable to control clashes in personalities or other interpersonal issues that ruin the fun for everyone involved. Please choose to play the game in a manner that is fun for you and your dog and allows others to do the same.